News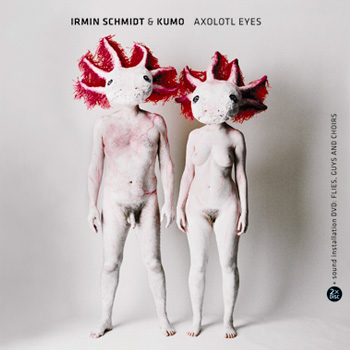 DECEMBER 08
Irmin Schmidt & Kumo - Axolotl Eyes
bbc.co.uk/music:
"...it's a winning, warming blend"
Record Collector:
"... a rich, vibrant, often jaw-dropping collision between man and machine."
Schmidt and Kumo's latest album of electronic experimentalism features Kumo's shimmering grooves, subterranean bass, theremin and violin providing the perfect foil for Schmidt's peerless and enduringly adventurous playing. Unlike their 2001 debut - which was largely put together by extrapolating snatches of music featured in Schmidt's opera Gormenghast - Axolotl Eyes is very much a studio recording.
With several tracks featuring Ian Dixon on trumpet and vocalist Paul J Fredericks, Axolotl Eyes also marks a return to the extended improvisation followed by painstaking editing methods pioneered by Can.
"I went off to a small studio in Cologne and created the seeds that we could develop together," Kumo says. "We then distilled the ensuing hours of material into seven songs."

Opener Kick On The Floods rapidly evolves into a churning sea of ghostly, filmic melancholy lightly shaded by menace, while Drifting Days, Crime Pays kicks in with a melody that could grace any classic detective series underpinned by subtle atmospherics. A classic Schmidt & Kumo moment.

The mysterious and dense Umbilicus Clear was inspired by sounds from outer space and Raketenstadt melds the vocals of Paul J Fredericks with industrial strength synths, drifting melodic fragments and trumpeter Dixon summoning the spirit of Dizzy Gillespie.
back to news