News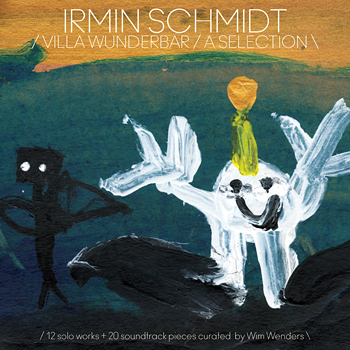 IRMIN SCHMIDT - VILLA WUNDERBAR
DOUBLE CD COMPILATION – OUT 4 NOV 2013
LISTEN TO A SAMPLER OF THE ALBUM HERE: http://snd.sc/1cBHCCQ
CAN VINYL BOX SET – OUT DECEMBER 2013
Mute and Spoon are pleased to announce the release of VILLA WUNDERBAR, on 4 November 2013, a 2CD set, compiling the work of Can founder Irmin Schmidt's solo and soundtrack work, including two unreleased Can remixes and a collection of soundtrack pieces personally compiled by long-term collaborator Wim Wenders.
CD1 is a compilation of Irmin Schmidt's extensive work as a solo artist over the past 30 years, whilst CD2 - selected and presented by the filmmaker Wim Wenders - is an insight into Schmidt's vast work as a composer for film and television for which Wenders has written extensive sleeve notes.
The two CD compilation includes tracks such as Villa Wunderbar, Kick On The Floods and Bohemian Step, alongside unreleased remixes by Schmidt of two Can tracks, Alice and Last Night Sleep and an unreleased extract from La Fermosa, a ballet by Youri Vàmos, entitled Bêtes De Passage.
Listen to a selection of tracks from Villa Wunderbar here: http://snd.sc/1cBHCCQ
After an extensive classical education as pianist, conductor and composer, Irmin Schmidt – who studied under Stockhausen and Ligeti - established Can in the late 60s combining classic new music with rock and jazz. The band's powerful influence has never diminished, and their indelible mark is apparent in the bands who freely acknowledge their importance - from Portishead, James Murphy, New Order, Factory Floor, Public Image Ltd, Mogwai, Kanye West (who sampled 'Sing Swan Song') and Radiohead - as well as across other disciplines such as visual art and literature.
After Can disbanded in the late 70s, Irmin Schmidt returned to his work as a solo artist and the result is a vast oeuvre, which includes a series of solo albums (Toy Planet (1981), Musk At Dusk (1987), Impossible Holidays (1991)), an opera (Gormenghast (2000) based on the Mervyn Peak trilogy), several releases with English composer Kumo (Masters Of Confusion (2001), Axolotl Eyes (2008), Flies, Guys & Choirs (2008) and Cyclopean EP (2013)), a ballet (La Fermosa by Youri Vàmos) and over 100 film scores (Snowland, 2005 dir Hans W. Geissendörfer, Palermo Shooting, 2008, dir Wim Wenders), amongst others)
Schmidt's sound-trips combine what normally competes and conflicts: rock, pop, jazz, classic, electronic, ambient, drum 'n' bass, waltz, eastern ... He is a musical alchemist.
Following on from the phenomenal success of Can box set, The Lost Tapes, curated by Irmin Schmidt, Jono Podmore and Mute's Daniel Miller, and this year's Cyclopean EP (Schmidt, Kumo, Burnt Friedman and Can drummer Jaki Liebezeit), 2 December 2013 will see the long-awaited release of the Can back catalogue, remastered on vinyl for the very first time. All 14 albums, including Out Of Reach and an exclusive live bonus album, will be released on 180g vinyl in a box set alongside original posters and artwork.
CD 1 - Solo Work

Dreambite
Le Weekend
Rapido De Noir
Love
Villa Wunderbar
Time The Dreamkiller
Burning Straw in Sky
Fledermenschen
Kick On The Floods
Fuchsia's Song - Rainbow Party
Ensemble – Joy
Bêtes De Passage

CD 2 - Soundtracks

Flavia Theme
Quattrocanti (Dream Theme IV)
Fresco & Finale (Flavia Theme III & IV)
Zicke Zick
Schneeland
Dangerous
Lied vom Verschwinden
Geisterlied
Rote Erde (Titel Musik)
Es Geht Ein Schnitter
Bohemian Step
Roll On Euphrates
Aller Tage Abend Walzer
Messer im Kopf 
Solo
Morning In Berlin
Verdi Prati Valse
Alice - Remix
Last Night Sleep - Remix
For further information please contact Zoe Miller at Mute HQ
zoe.miller@mute.com / 020 8600 7973
back to news